This year's President is Jenny Jarvis, seen here receiving the Insignia from outgoing president Karen Hibberd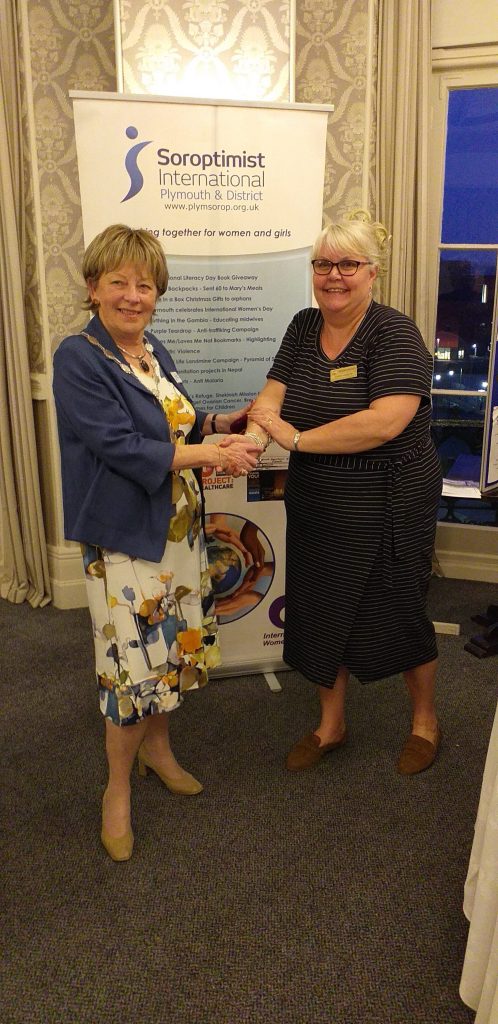 Who would have thought that we would be living through such challenging and turbulent times, nationally and worldwide? I learned many years ago that the symbol for 'Crisis' in Chinese translates as Opportunity. I believe that we have 'opportunities in bundles' in this coming year to make a positive impact on the lives of some of the women and girls in our local community, and in wider communities. We won't have a clear straight pathway (more possibly like crazy paving at times!) but we can achieve much with a shared sense of purpose, a clear focus on outcomes underpinned by supportive and creative teamwork, and positive communication and feedback.
Besides all the hard work, I hope Plymouth members will also enjoy the varied and full programme of events planned. The SIGBI (Soroptimist International Great Britain & Ireland) theme is THINK ON IT with its focus on Mental Health. It's a subject close to my heart. I have chosen two speakers for supper meetings in May and September (Rachel Harris and Hayley Silk) who could help us focus on some of the issues involved.
I'm looking forward to the next busy twelve months.