The Plymouth-Bissary Aid Project was set up by David Compton, a teacher at a Plymouth School, making provision for clean water supplies and educational facilities in rural Gambia. We support this project by sending items ranging from pots and pans to bicycles and tools for building and gardening.  David organises a container which is sent fully loaded to The Gambia once a year.
As well as the above we have also given over £2500 in money over the past few years to the Bissary project. We have helped supply a medical unit and have also helped finance the building of the dining shelter at the school.
We have helped fill three containers which are shipped out to the Gambia with clothing, household goods, gardening equipment, tools, sewing machines, bicycles, medical equipment including medicines & educational equipment.
In July 2017 alone, Plymouth Soroptimists handed over 40+ bags of linen as well as pots, pans, gardening and building tools and two bicycles which were sent to The Gambia in October 2017.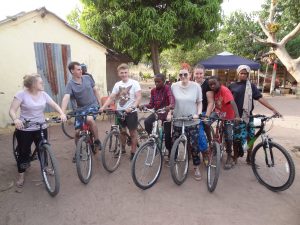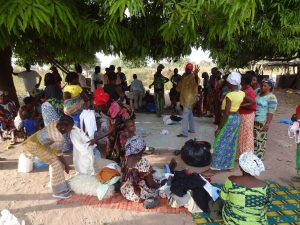 The following is an update from David Compton about the 2017 container.
All the donated bedding etc went to the District Hospital where they had beds but no sheets, pillows or covers. This was a complete minibus load —  all gratefully received and put to instant use.
The pillowcase dresses made by the Brownies and the bag of knitwear for the children was an outstanding success.
We equipped the Health Post with drugs and dressings and were able to supply the District Hospital with a half van load. We had a look in their pharmacy and the shelves were bare– so again a great success.
We have started fitting solar lights and panels to each compound. We have done several and have about 12 to go. It is very strange seeing the village with lights on at night!
Our plans are to send out another container in October with many of the "high value  items". Contents that would be appreciated include all items of bedding (single or double size), unwanted medication and bandages, more pillowcase dresses, clothing for men and women and children ( including shoes and underwear)
A list of items that would be useful to the Bissary project can be found here