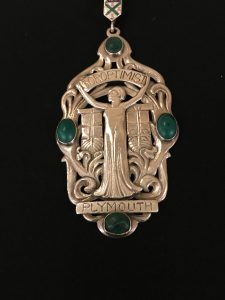 The insignia of S.I. Plymouth & District was made by Plymouth silversmith's Paige, Keen & Paige and is hallmarked Birmingham 1931. It weighs 4 ounces.
The Art Deco design, unusually, shows the complete Soroptimist figure. A sailing ship commemorates Plymouth's maritime history. It is set with 4 malachite green semiprecious stones found in East Cornwall.
The City Arms were added later, donated to the club by Miss Dennis, Club Treasurer for 19 years.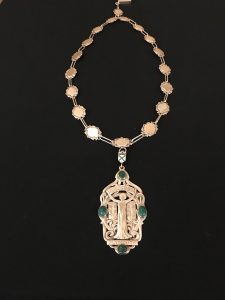 In 1991 President Debbie Coleman, Fine Arts Restorer, arranged for the silver bars engraved with the names and dates of Club Presidents to be removed from the blue ribbon and made into a supporting chain.