Forthcoming Events
   ****************************
Previous Events
1st December – Tavistock's Dickensian Evening
A chilly December night saw a team of members serving delicious mulled non-alcoholic mulled punch at the annual Dickensian evening in Tavistock.  As usual it was a lively, busy evening and £500 was raised for project funds.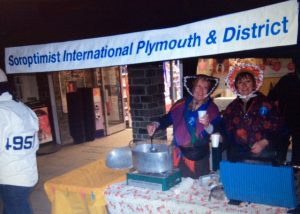 25 November – Railing Against Abuse
On Saturday 25th November, around 80 Soroptimists from all over the West Country met at Bristol Temple Meads Station and walked to the Lord Mayor's Chapel for a civic reception to raise awareness and support the United Nations Day for the elimination of violence against women.
They wore bright orange clothes and as they marched through Bristol city centre carrying placards, they highlighted the campaign to stop domestic violence – called Railing against Abuse.
They were met at the end of the march by Tara Arkle who works in the field of domestic abuse and her mother Dame Joan Collins DBE who supported the march.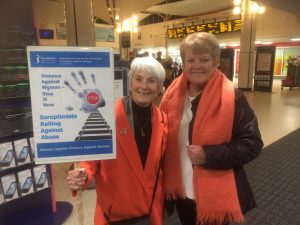 17 November – Barn Dance
A great time was had by all who joined us at the barn dance.  A lot of laughs and exercise and an excellent buffet supper completed the evening.
12 November
President Margaret laid a poppy wreath at the Remembrance Day service on Plymouth Hoe.  Some SI Plymouth members also attended the service.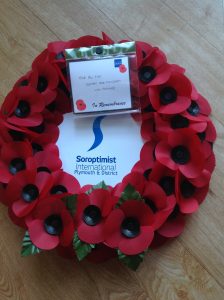 26-28th October
Members at the 83rd Federation Conference in Cardiff at the Wales Millennium Centre.  The theme was Step Up, Lead the Way.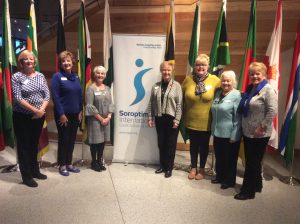 11th October – Day of the Girl
Brownies from across Plymouth made Christmas gifts of bracelets and pillow-slip dresses for girls in the Gambian village of Bissary.  Plymouth Soroptimists have supported this project for a number of years and are delighted that these young girls and their leaders gave their time to help others less fortunate than themselves.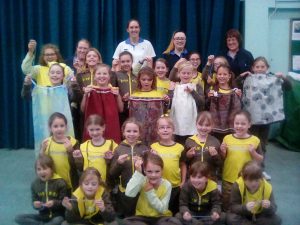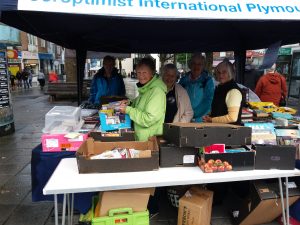 Over 1,000 paperback books and bookmarks were given away to children, teenagers and adults at this year's Big Book Giveaway to celebrate International Literacy Day
July 2017 – President's Mad Hatters Tea Party
Luckily the sun shone on a fun afternoon for the President's at home with the theme of a Mad Hatter's Tea Party.  Some interesting and unusual variations on hats and outfits added to the jolly atmosphere of the annual event.  The tea was delicious and the garden looked beautiful, and thankfully the threatened rain showers held off!
Hidden amongst these lovely ladies below you might just spot a Soroptimister!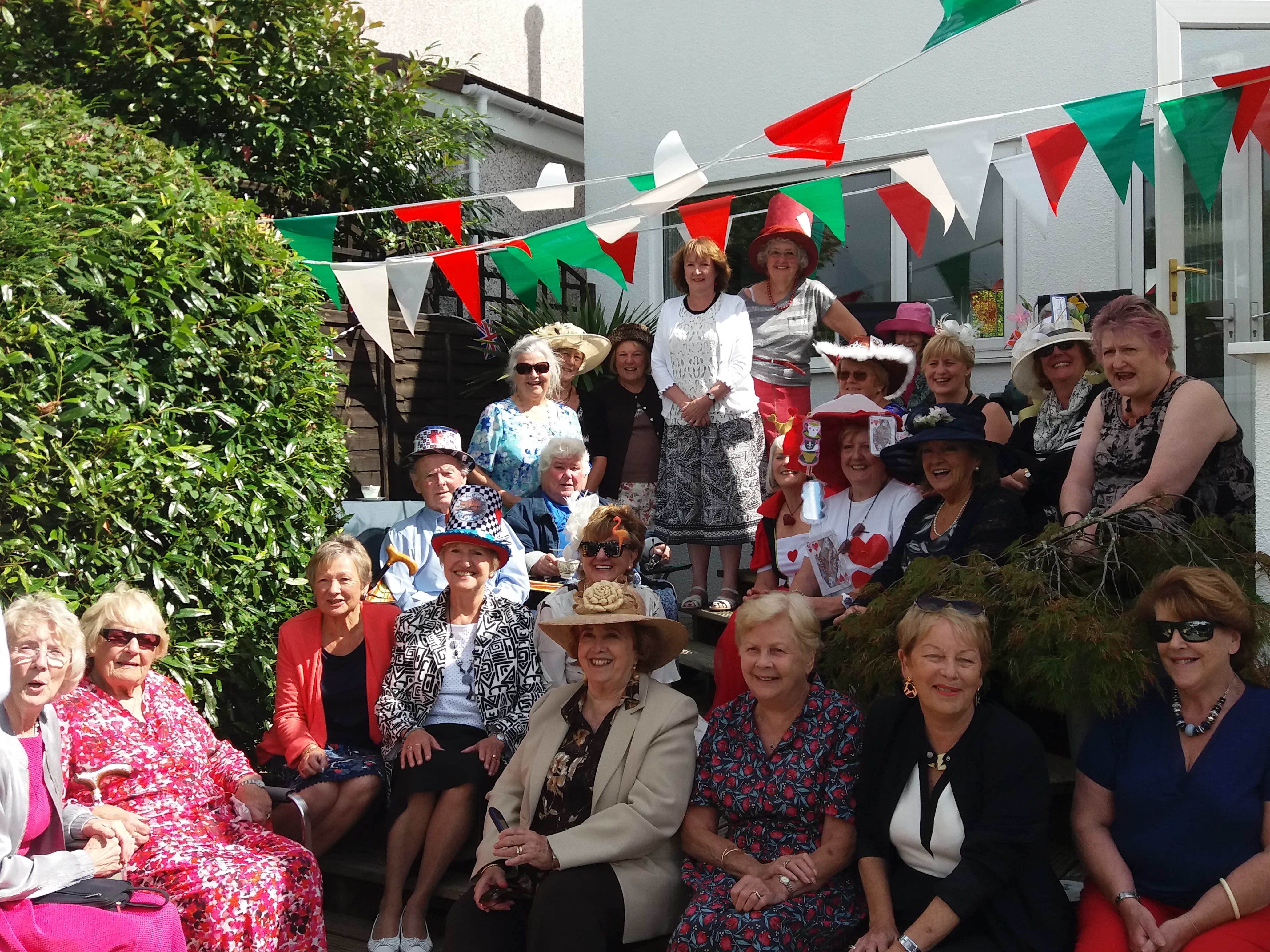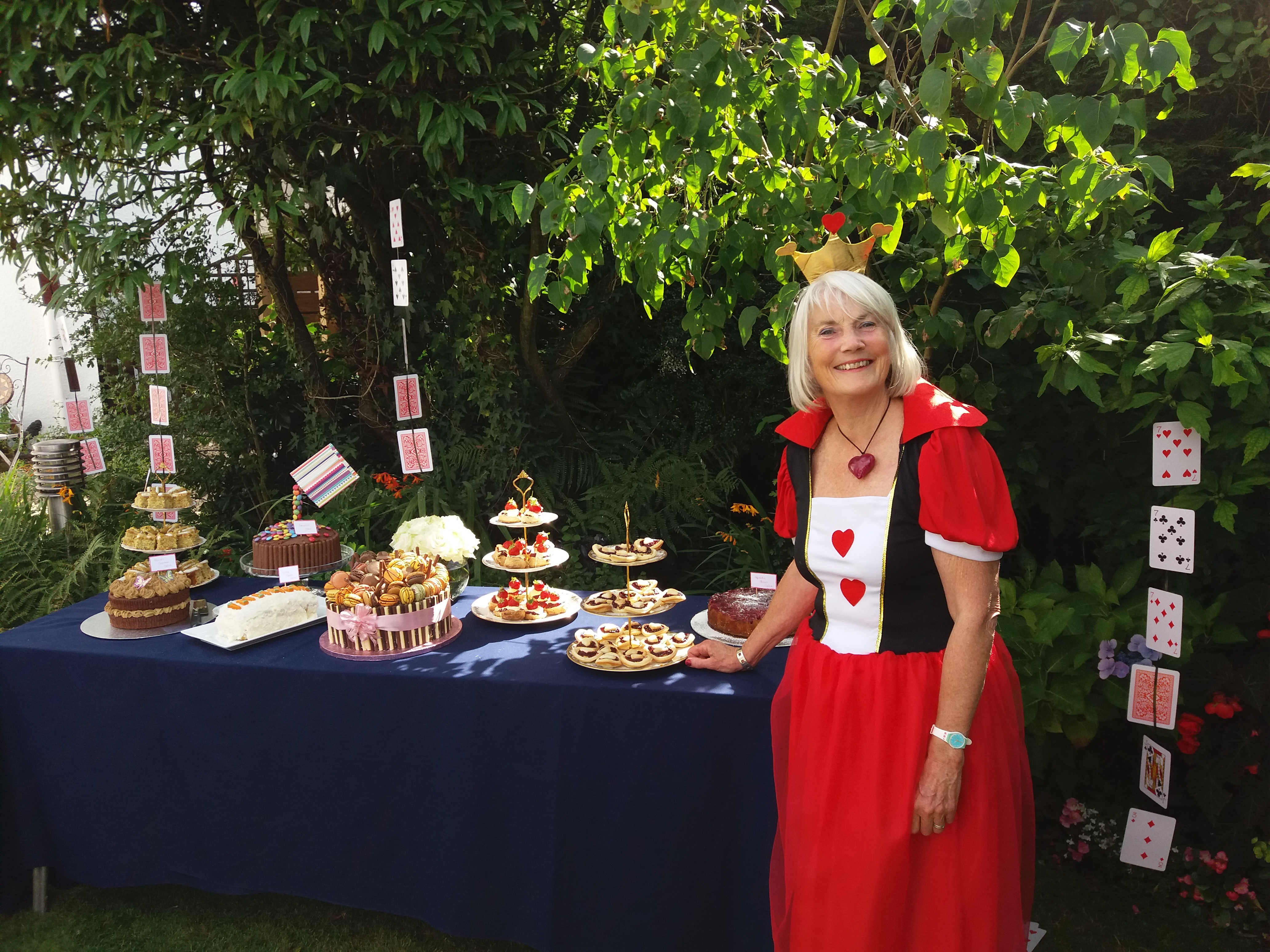 President Margaret – the Queen of Hearts!
July 2017 – Look Good Feel Better coffee morning
Over 20 ladies supported the Look Good Feel Better (LGFB) charity by supporting a coffee morning held at Plymouth Soroptimist Secretary's home.  The LGFB is the Regional President's chosen charity for 2017 and the Plymouth branch were delighted to raise £300 for this very worthwhile charity.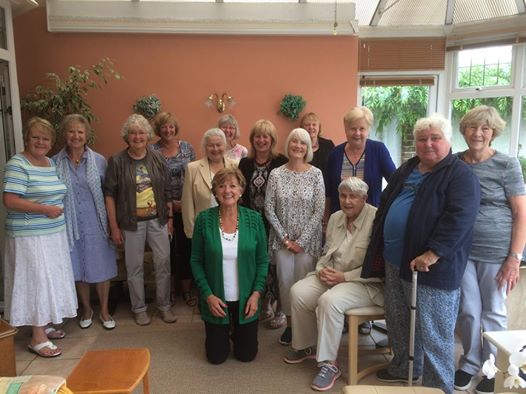 Look Good Feel Better (LGFB) is the only international cancer support charity, providing practical and very effective free services for women and teenagers struggling with the visible side effects of cancer treatment.
LGFB is dedicated to improving the wellbeing and self-confidence of people undergoing treatment for any type of cancer. Many beneficiaries tell us that LGFB helped them regain a sense of control and normality at a time when diagnosis and treatment had taken over their lives.
July 2017 – Fun quiz and pasty night
A testing fund raising and social event!
June 2017 – Plympton's historic Lamb Feast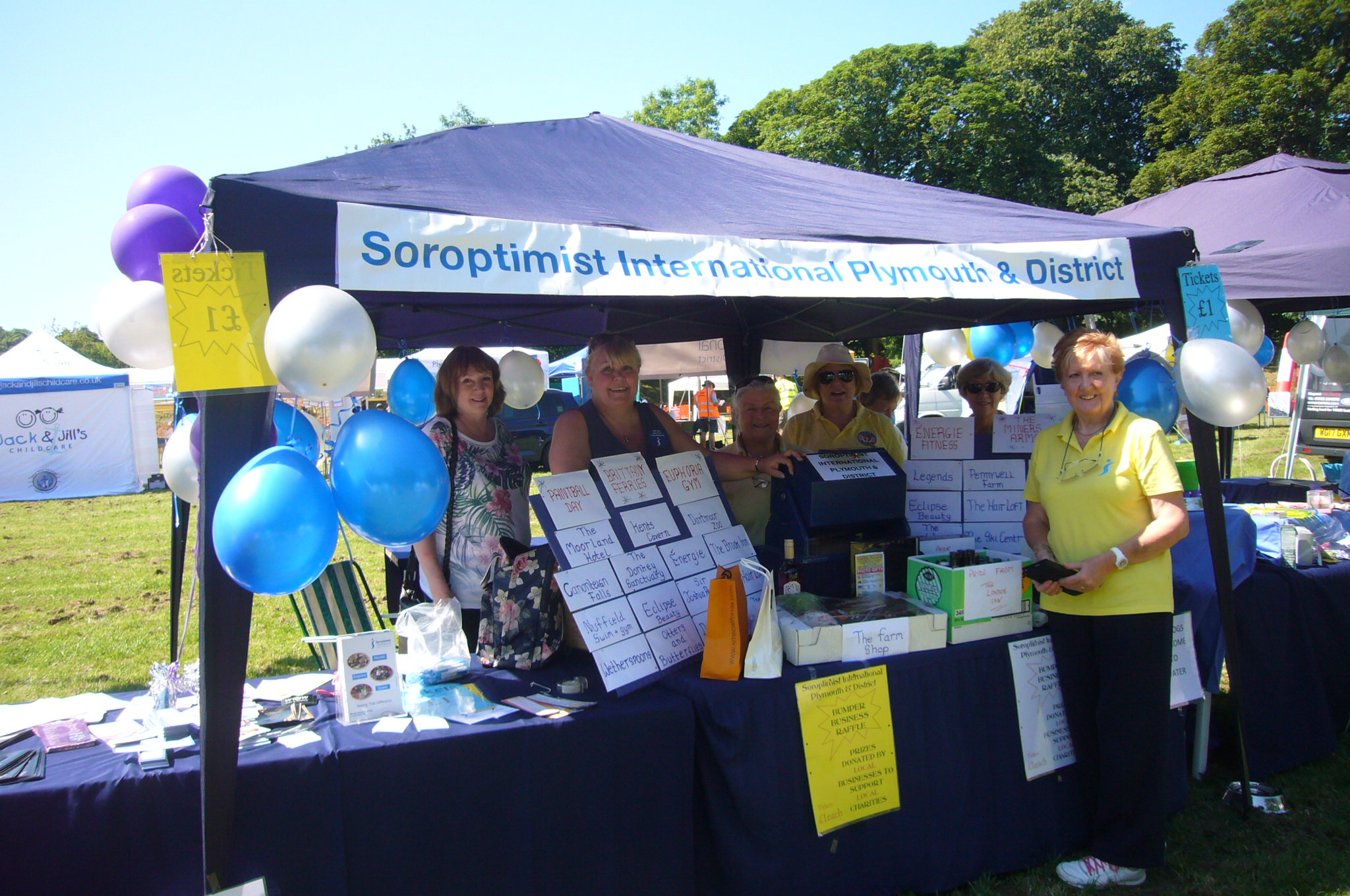 Hardy Plymouth Soroptimists staunchly manned a tombola and raffle stand in the blistering heat at a local Lamb Feast event in June.  With temperatures reaching 30 degrees, the well decorated gazebos provided some much needed shade for the team.  Passing dogs were also very grateful for the water bowls thoughtfully provided at the stand!  The day was a great success with £480 being raised for project funds and some potential new members expressed interest in SI as they were handed free bookmarks.
May 2017 – Lord Mayor's Day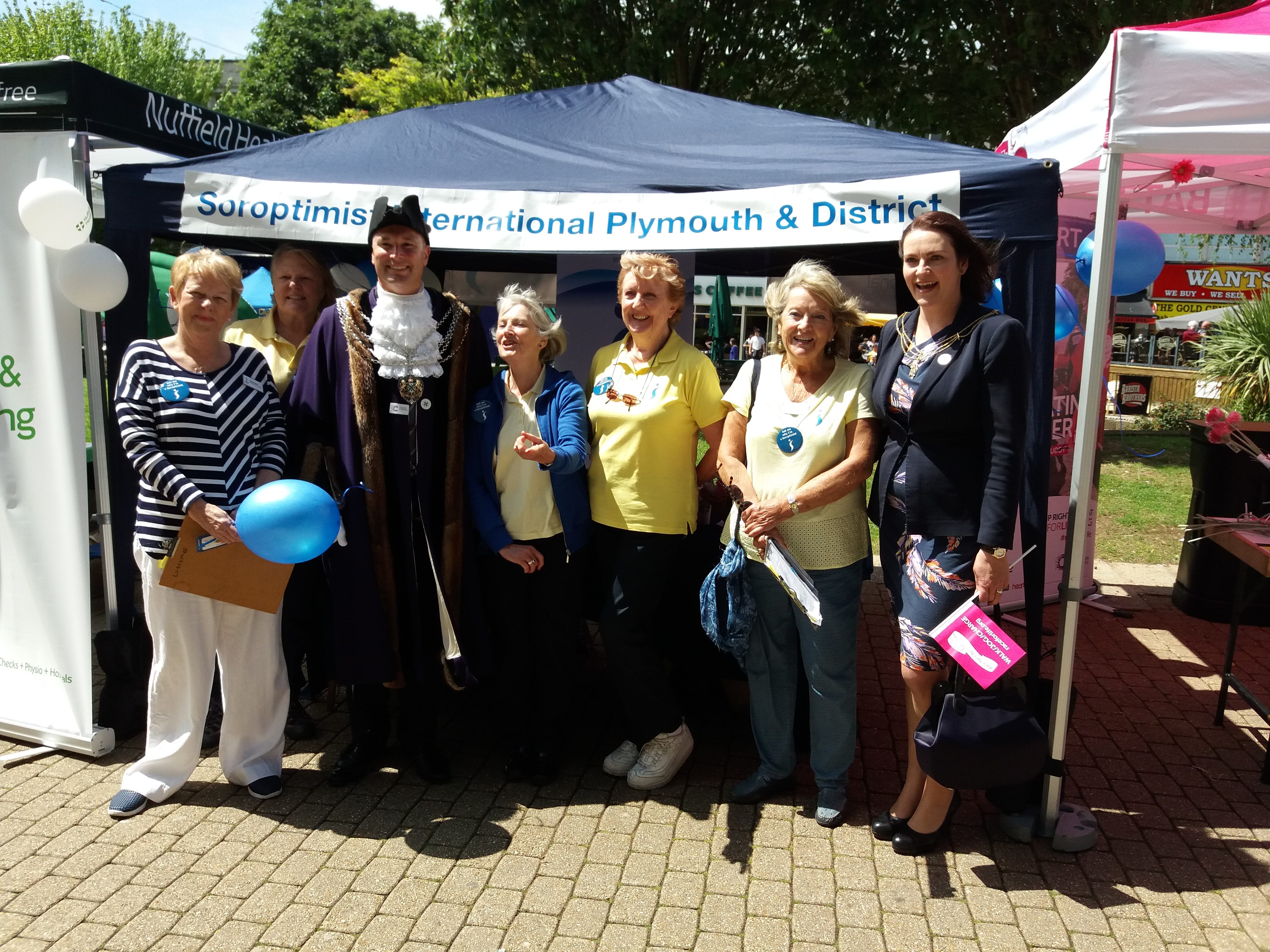 Plymouth city centre was crammed with visitors for Lord Mayor's Day in May and hundreds stopped as they passed by the SI stand, attracted by free bookmarks being given away and a free prize draw.
The SI stand was manned by an enthusiastic team of members handing out the new bookmarks and talking to many women who were interested in the work of SI. Plymouth & District SI are hoping that some of the interest shown will translate into new members to add to those who have already joined this year.
May 2017 – Horse race night
A fun fund raising event
March 2017 – Zumba session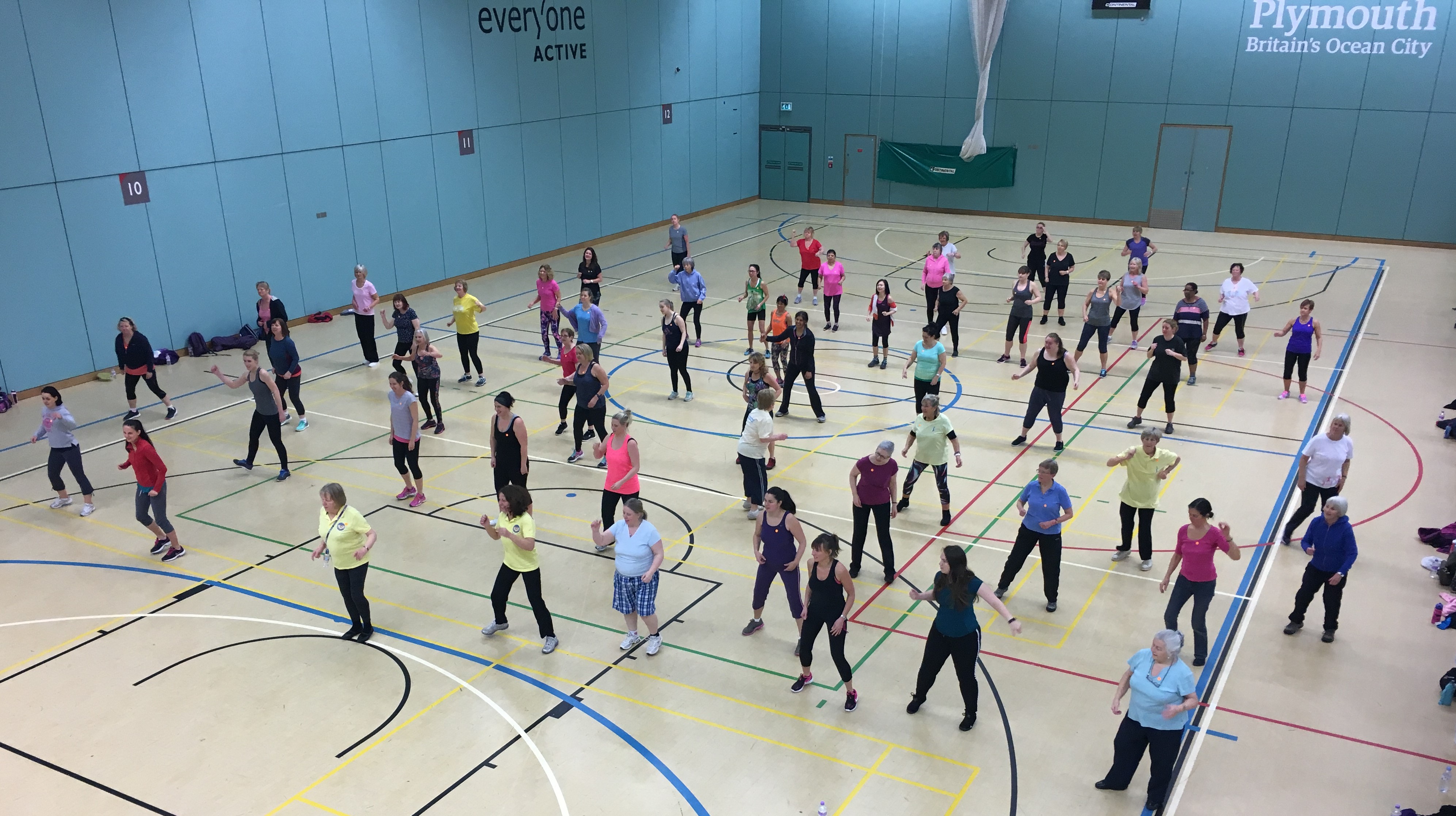 Lively ladies celebrated International Women's Day in energetic style!  A 60-strong group of members, family, friends and acquaintances took part in a zumba session in Plymouth Life Centre on a blustery Sunday morning.  As this was a first time for many participants there was some confusion as to direction of travel of arms, legs and bodies but all in all it was great fun and some calories were lost while funds were gained.  The Lord Mayor of Plymouth, Councillor Pauline Murphy launched the event and were it not for her stiletto heels would no doubt have joined in the fun!  Two lucky ladies won baskets filled with goodies and some visitors expressed interest in SI which may translate into new members.
March 2017 – Thornton's chocolate 'lock in'
A great fun, fattening social evening!