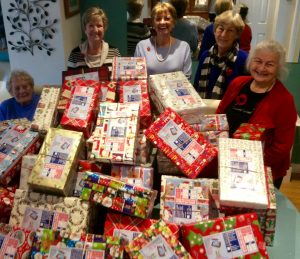 Every autumn a group of Plymouth Soroptimists meet up to fill shoe boxes wrapped in Christmas paper. Each box contains basic items including toiletries, hat, gloves and scarf and pencils and notebook.  Then each box has more items added so they are tailored for a boy or girl within specific age ranges.  This year we packed 52 shoe boxes.
Additional items include small toys, geometry sets, sweets, hair accessories and games etc.  The shoe boxes are then sent to hospitals and orphanages in Moldova and are handed out to very excited and grateful children.
The Mustard Seed Relief Mission collects boxes from schools, churches, individuals and organisations like Soroptimist International and sends around 40,000 boxes each year to children in Eastern Europe under the banner of 'Love in a Box'.