How the hotel idea started
At the Board Meeting in 1946 it was recommended that a headquarters be established, if possible by 1948.  The premises should provide:-
Office accommodation for the Federation
Somewhere for members to meet
Cloakroom and catering facilities
Hotel accommodation for visiting Soroptimists
It was estimated that £25,000 would be needed, and Miss Cox, who was Chairman of the Board of Governors in 1948, asked all Clubs to consider an appeal to celebrate the 25th anniversary of the establishment of the Federation.  Subscriptions were to be for £5 shares, and money came in quickly.
On 26th June 1948 the Premises Committee inspected 63 Bayswater Road, a high class flatlet house, and offered £17,500; an asset now valued at £5m – what foresight those earlier Soroptimists had!  The remainder of any money raised would be needed for the redecoration and adaptation.  The Silver Jubilee objective was achieved and Number 63 became ours on 1st October 1948 – the fulfilment of a dream, a home of our own.
The work needed to change the layout of the house from the "high class flatlet house" to individual bedrooms and bathrooms was completed in 1971, but over the years since then, the Management Team have continued to improve and update the accommodation, work which will never be finished.  A cheque for £8,000 was given to the Board in January 2017, making the total given by the 2000 Club a very useful £127,000 – many times the cost of the original purchase price!
Where we are now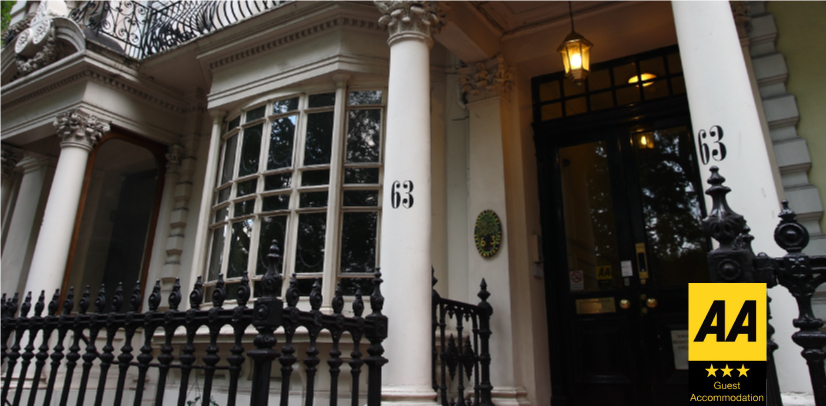 Soroptimists International now has a small AA 3 star rated bijou hotel in central London, opposite Hyde Park and close to Lancaster Gate tube station.  Number 63 Bayswater Road (usually referred to as Number 63) is open to all and offers a very convenient base for sightseeing, shopping or business trips to London.
The hotel has a friendly lounge bar overlooking
Hyde Park and breakfast, lunch, dinner and afternoon tea are served daily.
There are nine single rooms, six twin rooms and a suite for three or four.  All rooms are en suite with all the facilities you would expect in a 3 star gold award accommodation: hair dryers, iron, telephone, TV, wireless internet and tea/coffee making facilities..  There is a lift to all four floors
There are two conference rooms which can be set up in boardroom or theatre style for 40 people and refreshments can be provided.  These rooms can also be used for social events – menus available on request.
For more information or to make a reservation please contact us at:
63 Bayswater Road, London W2 3PH,
info@number63.co.uk
telephone +44(0)20 7723 8575