We 'Oranged' Plymouth!
Thankfully we were blessed with a lovely sunny day for our Orange walk through Plymouth city centre on 25th November to mark the International Day for the Elimination of Violence against Women and Girls and all gender based violence. Around 100 men, women and children, as well as a few dogs, joined us on our way up to Plymouth Hoe. The deputy Lord Mayor Kathy Watkin started the walk and Alexis Bowater OBE closed it at the statue of Nancy Astor on the Hoe. Many walkers wore orange and landmarks around the city displayed orange lighting including Smeaton's Tower on the Hoe. Plymouth Citybus 'Spiking' bus, which is dedicated to highlighting the dangers of drink spiking, met the group outside the Theatre Royal. At various points on the route speakers including our President Elle, talked about the horrifying statistics relating to violence against women with almost 7,000 incidents reported in our city alone in 2022. We were very pleased to be joined on the walk by women from Trevi House, Sunflower Centre and the Daffodil Family Assessment Unit. Britvic kindly provided cans of Tango which were handed to passers by which gave an opportunity for our members to tell them about the event.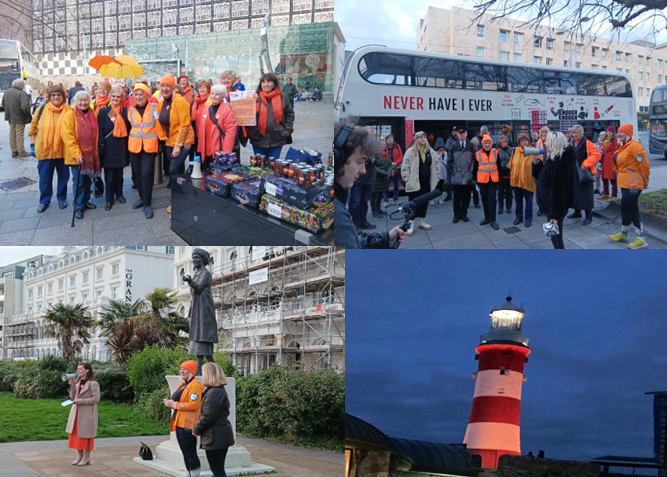 Join us to Orange Plymouth!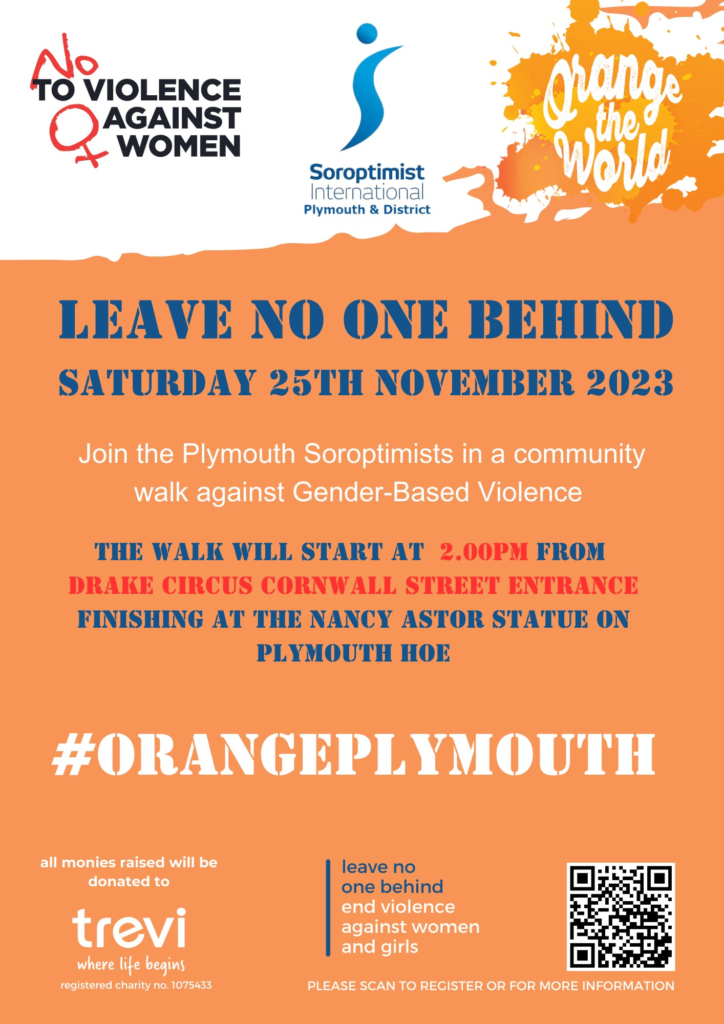 Remembrance Service Wreath
Vice President Ann accompanied by members Hannah and Lorraine, laid a poppy wreath at the war memorial on Plymouth Hoe on Remembrance Sunday.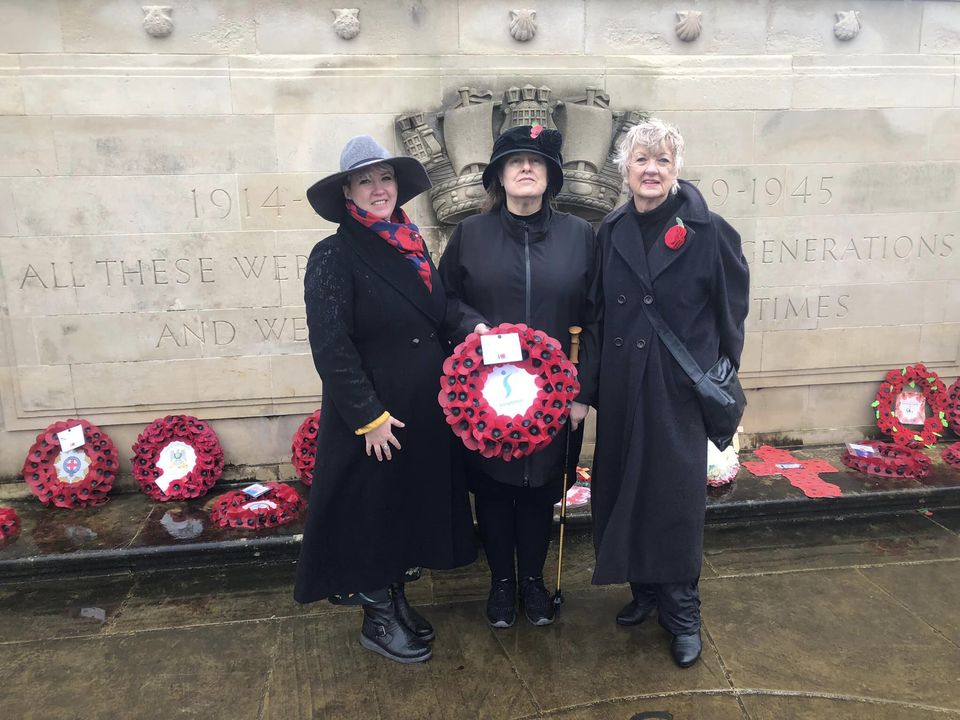 Christmas cheer heading to Ukrainian children
A team of 10 members packed 50 Christmas decorated shoe boxes destined for Ukrainian children in orphanages, hospitals and shelters. The boxes, labelled with age range and suitability for girls or boys, contain toys, sweets, toiletries, hats, scarves and gloves – all of which were donated by members and friends. PUMA (Plymouth Ukraine Medical Aid) will be delivering the Christmas shoe boxes, knitted teddies, warm clothes for babies and toddlers and a bag of medicines to Ukraine in the next few weeks. Our Plymouth club will also be giving a cash donation to PUMA towards the transportation costs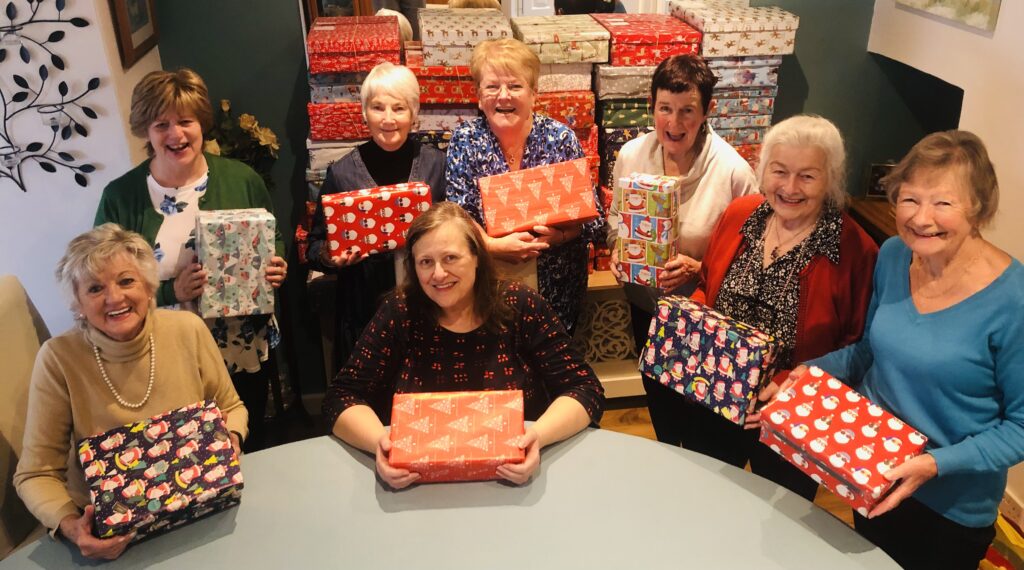 93rd Charter Lunch
Around 50 Soroptimists, friends and guest speakers attended Plymouth club's 93rd Charter lunch at Elfordleigh Hotel on 17th September. It was a lovely lunch and afternoon with great speakers: the Deputy Lord Mayor Kathy Watkins toasted the Plymouth club and Alexis Bowater OBE talked about the history behind the political life of Nancy Lady Astor. Alexis also described the race against the odds to get a statue of Nancy Astor on the Hoe to commemorate the centenary of her taking a seat in the House of Commons. President Elle thanked the speakers for their contribution to the event and also thanked members from Brixham and St Austell clubs who attended.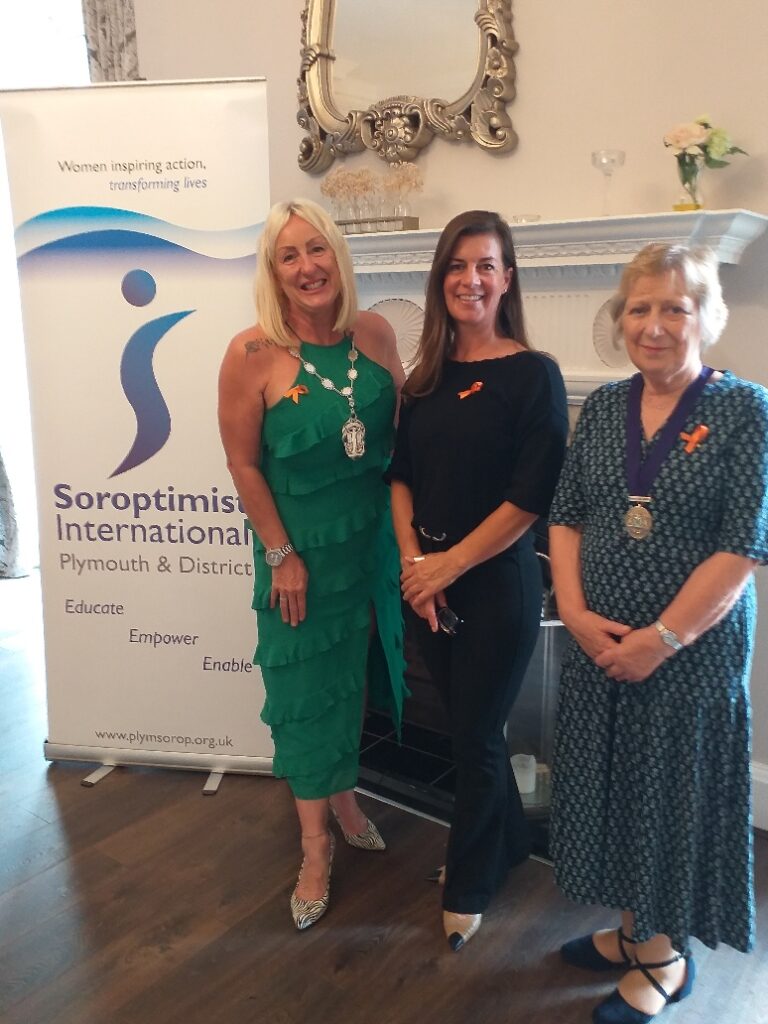 Prosecco, Pasties & Puddings!
A lovely sunny day saw members, 'Soroptimisters' and friends gather at a member's house to enjoy a relaxed afternoon. Ginsters kindly donated the pasties with members contributing prosecco and puddings. One lucky member won the star prize of a luxury hamper also provided by Ginsters. Almost £400 for our project funds was raised at the event which was finished off with an amazing parade of 80 tractors passing the gateway, coincidentally raising money for St Luke's charity.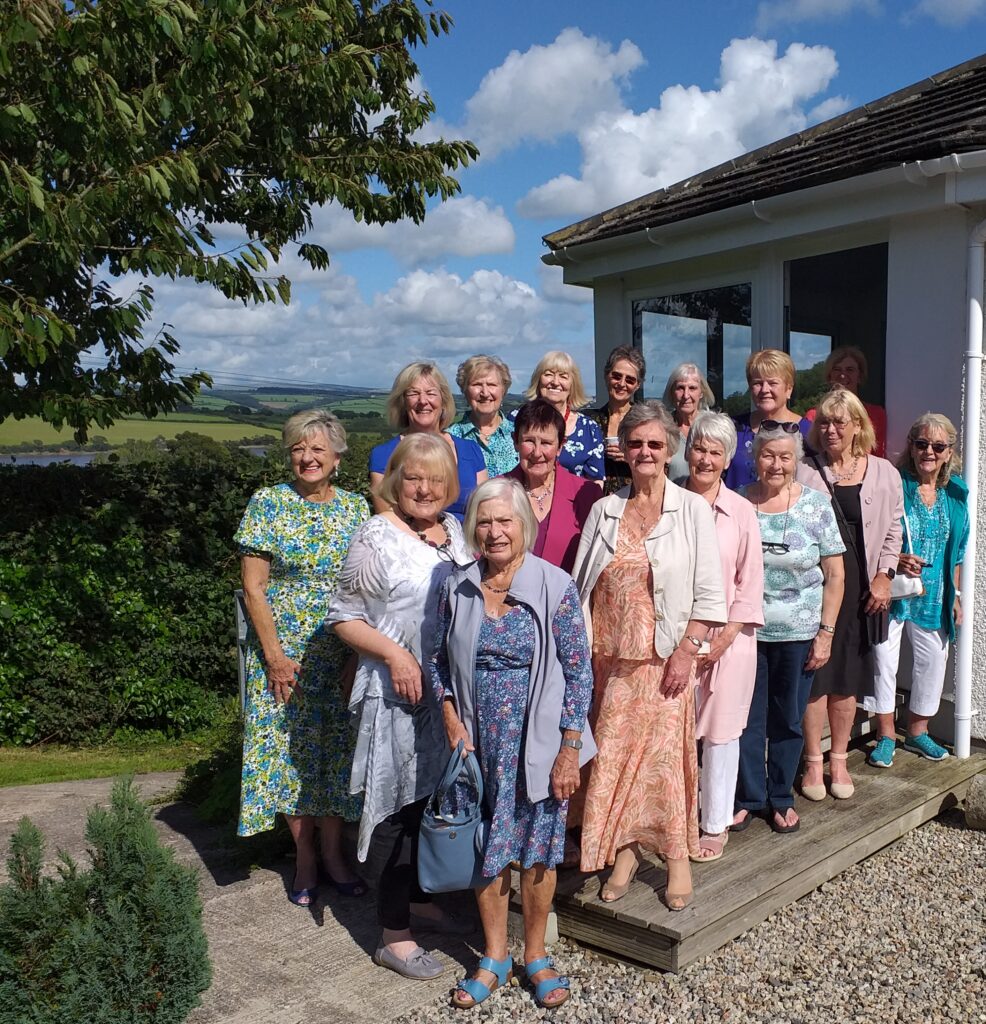 Ivybridge 'Orange' Cafe
Member Gabrielle organised an orange themed drop in event at The Watermark in Ivybridge to highlight the need to eliminate violence against women and girls. Staff at The Watermark fully embraced the idea by wearing orange and producing orange cakes and decorations, orange being the colour used to highlight this initiative. A team of members, also wearing orange, welcomed visitors and told them all about the international campaign to stamp out violence against women and girls. Orange Popup Hubs will be held on 19th September in Tavistock Library from 1pm-3pm, 3rd October in Totnes Library from 11am-1pm, 25th October Watermark Cafe from 11am-1pm, Ivybridge and 14th November in Plympton Library from 10am -12 noon.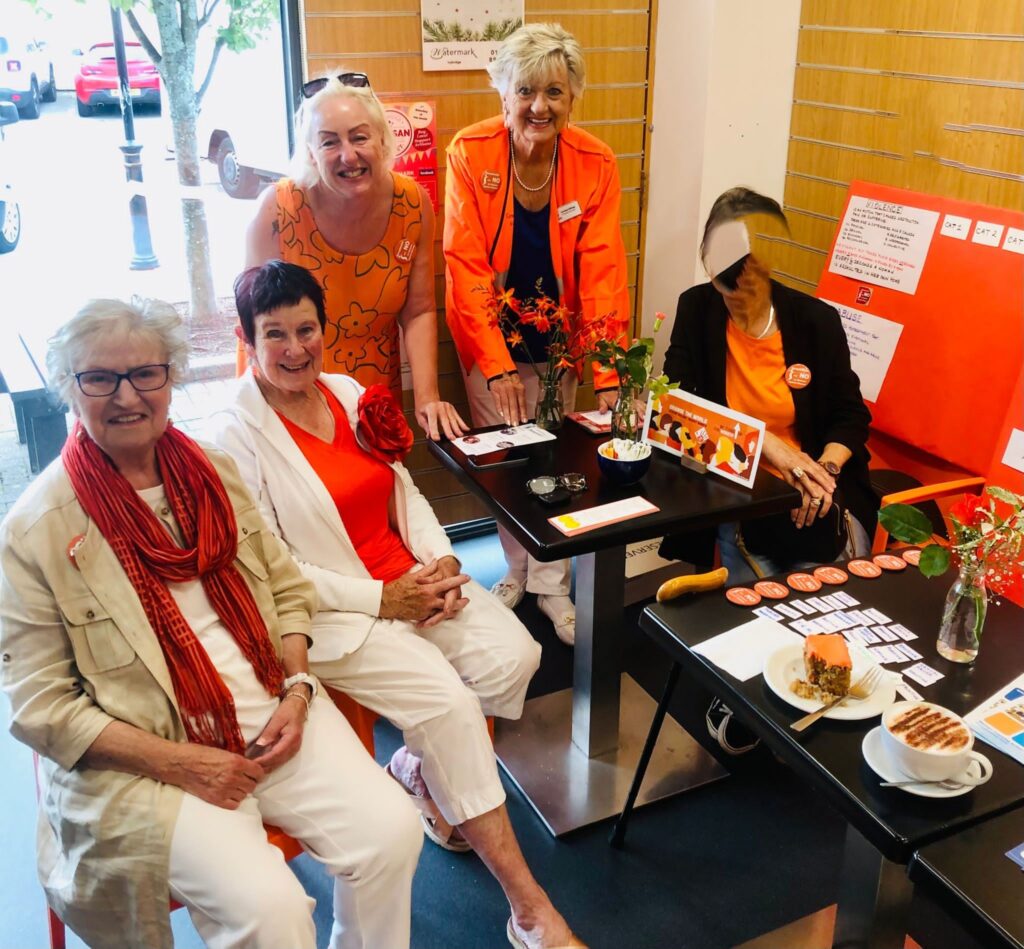 Dartmouth Boat Trip
A miserable wet day did nothing to dampen the spirits of a hardy group of Soroptimists who enjoyed a boat trip from Totnes to Dartmouth!
Plympton Lamb Feast fundraiser
Over £1,000 was raised at Plympton's historic Lamb Feast in June, thanks in large part to the generosity of local companies and individuals who kindly donated prizes. Plymouth Soroptimist Sue (along with other members) was very successful in sourcing magnificent prizes from businesses including the Duke of Cornwall Hotel, Brittany Ferries, Bedford Hotel, Peter Goord Travel and Delta Force Paintball to name just a few. Sue also thought of everything to ensure a successful event, right down to ensuring there were water bowls for passing dogs!
A team of members worked hard in the heat throughout the event attracting visitors to the stand, inviting them to take part in the tombola and raffle.
Sue said: "We're so grateful to everyone who donated prizes, especially in the current difficult financial climate. Our thanks also go to all those who very generously bought raffle and tombola tickets. It was amazing to raise over £1,000 for our project funds which will support local, national and international charities helping women and girls."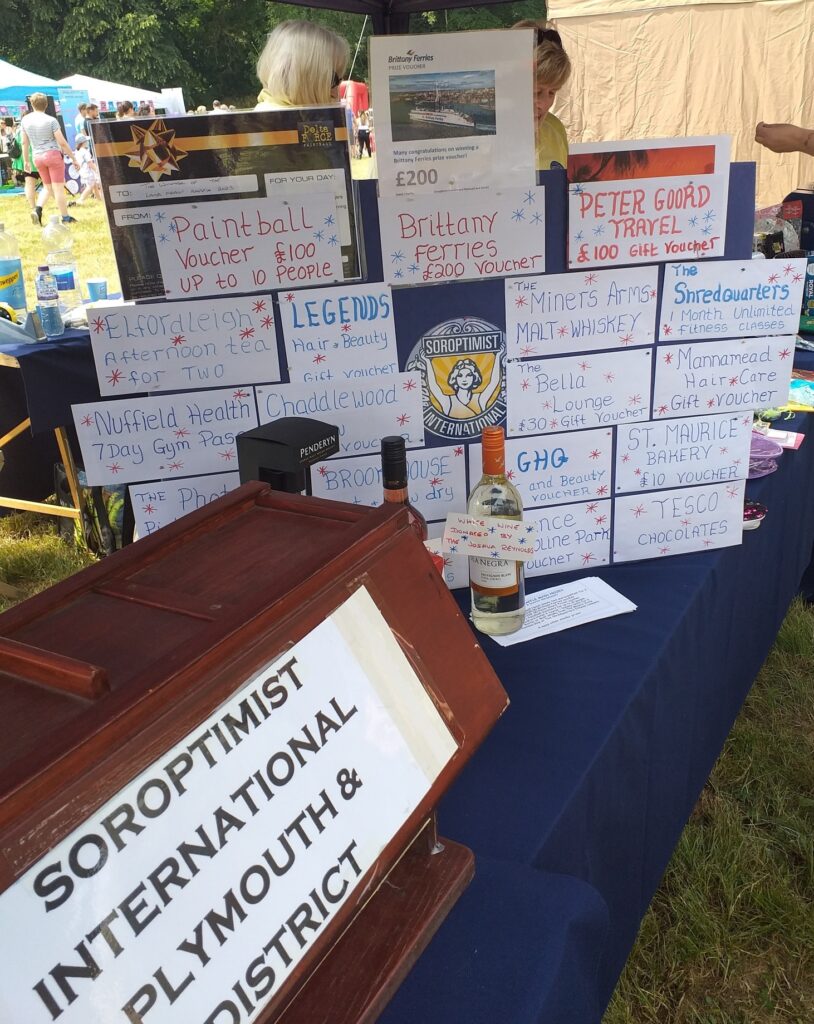 Drink Spiking
Thanks to an amazing effort by a Plymouth Soroptimist, a teaching module focussed on educating students on the dangers of 'spiking' in support of Violence Against Women and Girls is now a formal part of City College Plymouth's Public Services course.
For more information and photographs please click here
Dartmoor Prison MuseumVisit
A different social event was a visit to the Dartmoor Prison museum in May. The eight members that joined the tour found it fascinating with a former prison officer giving an excellent insight into the prison history. There are currently 896 prisoners in the grim prison. After the visit members enjoyed a cream tea at the Two Bridges Hotel.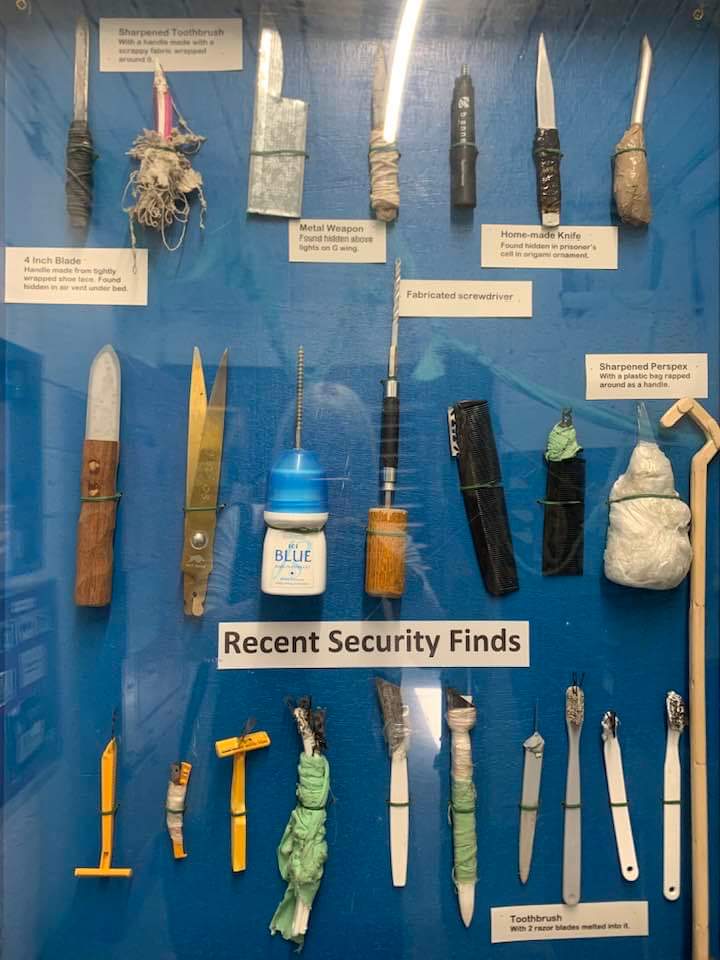 St George's Day Lunch
Delicious food and a lovely venue ensured that 30 members and guests enjoyed a lively St George's Day lunch at the Elfordleigh Hotel on 23rd April.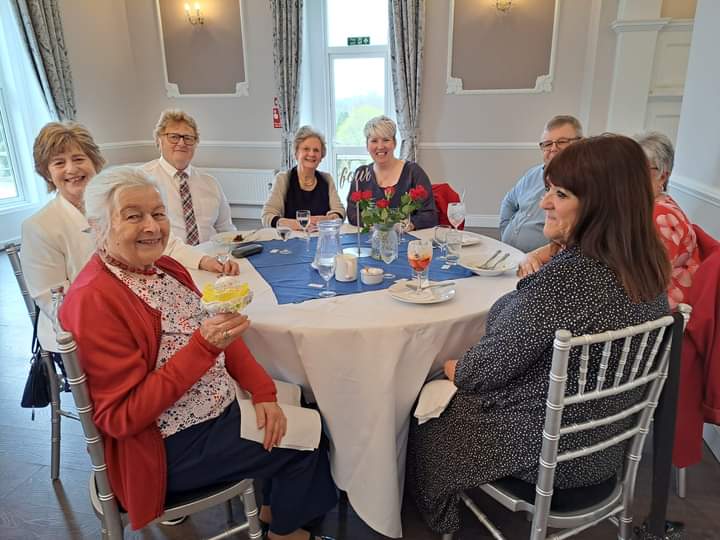 New President
Our president for 2023/24 is Elle Vuitton who received the Ensignia from outgoing president Lorraine Gillings at the April meeting. During her term of office Elle is aiming to increase our club membership and launch some new and innovative projects and programmes.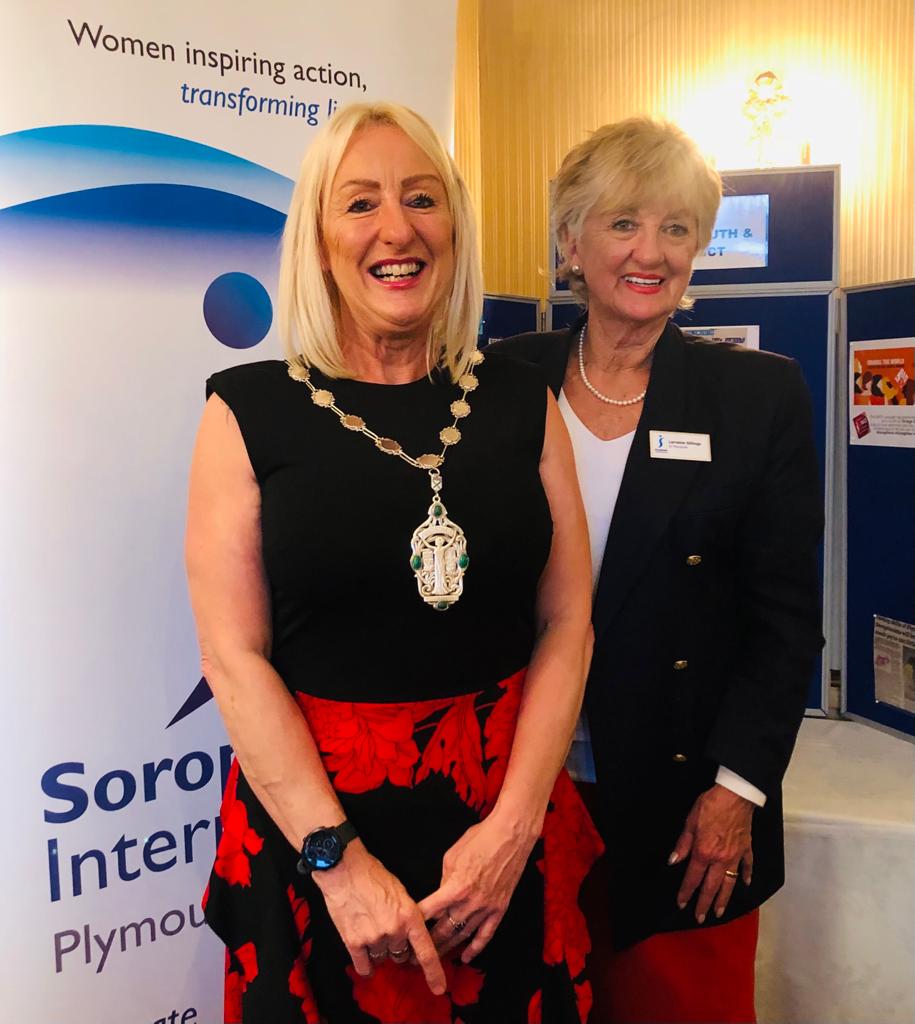 School Lego Challenge
Three members were delighted to be involved in this year's school Lego challenge at City College Plymouth, with Elle Vuitton and Gabrielle Bassett judging and Margaret Parkinson refereeing the 17 teams taking part.
The FIRST® LEGO® League introduces science, technology, engineering, and mathematics (STEM) to children aged 6-16 through fun, exciting hands-on learning. They gain real-world problem-solving experience through a guided, global robotics programme. The project this year was renewable energy, with teams showing how their Lego robot could generate green energy, moving to complete specific tasks for the challenge.
It was a thoroughly enjoyable event for everyone involved and in the coming months Plymouth Soroptimists will be reaching out to primary schools in a bid to support them in this challenge and/or offer subscription to the League and purchase of the Lego kit.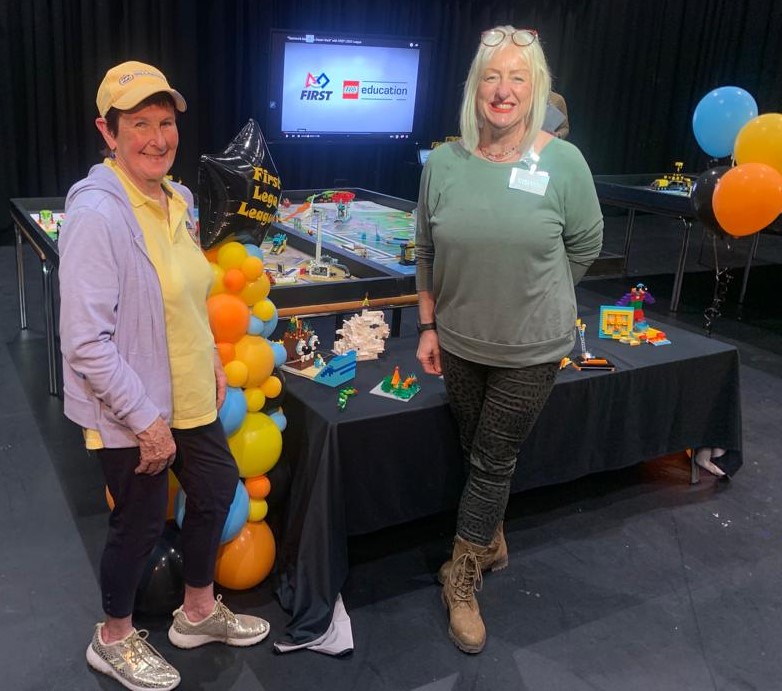 Dress a Girl Around the World – Exeter Westpoint
Dress a Girl Around the World at Exeter's Westpoint
A small team of Plymouth members did a sterling job over three days in March at the Westpoint Craft4Crafters promoting our club and showcasing the Dress a Girl Around the World project. We have already contributed 100 dress to this international charity and more are being produced ready for the next shipment to developing countries. The dresses are made from a range of fabrics including duvet covers, curtains and pillowcases. Not only are the girls delighted to receive probably the first brand new dress they will ever have been given, they are also protected from predators because of the Dress a Girl label sewn on to the front which indicates that there is an organisation is looking after them.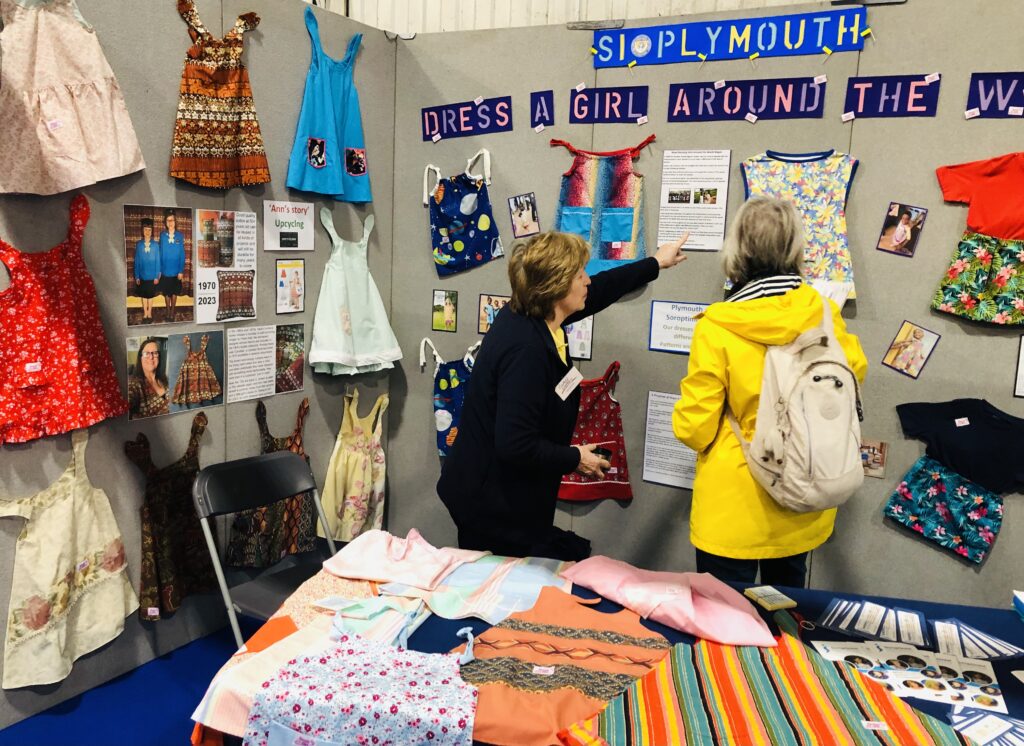 Pamper Day celebrating International Women's Day
Another successful pamper day at Plymouth's Sunflower Women's Centre* saw almost 50 ladies receiving top to toe treatments including haircuts, manicures, pedicures and facials. The event was organised by Plymouth Soroptimists** to mark International Women's Day and is the fourth annual pamper day to date.
All the beauty treatments were given by a team of volunteers from GHQ salon and training centre in Plymouth and Greenhouse Spa with Soroptimists pitching in to help out. Tea and coffee were provided throughout the day with a packed lunch supplied for everyone.
The invitation to attend the pamper day was extended to women at the Plymouth Refuge and the women that access the services at Sunflower Women's Centre.
Lunch donations were kindly provided by Morrisons Plymstock store and the Co-op at Crownhill.
Sue Miller of Plymouth Soroptimists with Vicki Stacey of GHQ organised the beauty treatments with other members co-ordinating refreshments for the day.
Sue Miller said: "This was a real Soroptimist team effort in the planning and delivery of the pamper day. We are extremely grateful for everyone that provided support and products on the day with particular thanks to GHQ without whom we could not have held the event. Also we owe thanks to Morrisons, the Co-op and Greenhouse Spa. The ladies who attended had a wonderful pampering experience and really enjoyed the day, some commenting that it was the best day ever."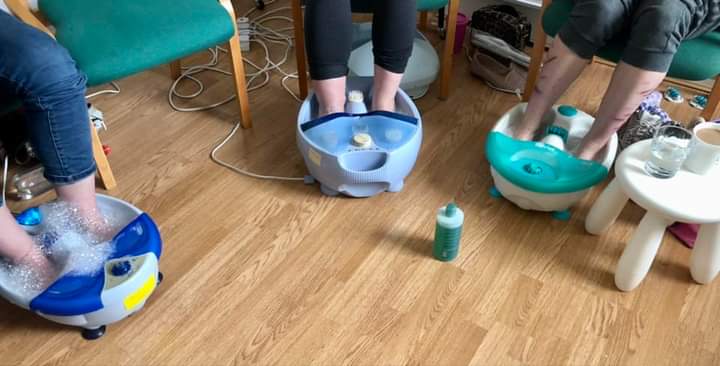 Change of Insignia
Outgoing President Margaret Parkinson presented Lorraine Gillings with the Insignia, handing the Presidency to her for the final term of our year. Margaret was presented with flowers and thanked for her term of office. Lorraine's aim for her term of office is to have a mix of project work, fund raising, social events and interesting speakers at the supper meetings.