(Scroll down to see recent past events)
Forthcoming Events
****************************
Previous Events
7th December – Tavistock's Dickensian Evening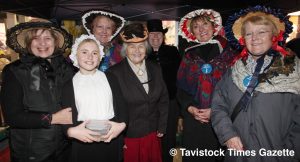 Hot non-alcoholic punch is a crowd pleaser on a chilly December night at Tavistock's annual Dickensian evening. Hard work but a good fund raising event.
9th November – Barn Dance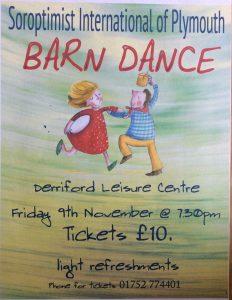 This is a great fund raising and fun evening
October – 84th Federation Conference in Liverpool
Several members from Plymouth & District SI thoroughly enjoyed the conference with excellent speakers and a chance to catch up with members from all over the world.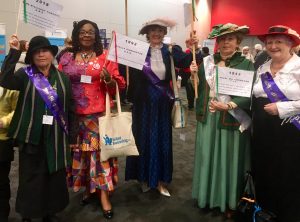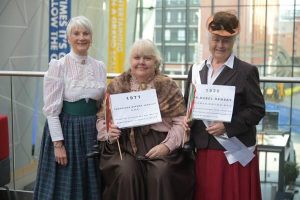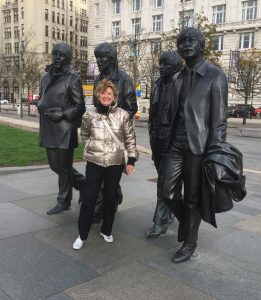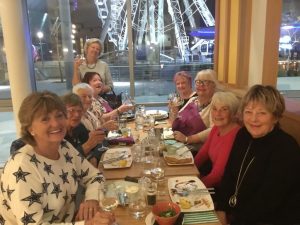 Another successful celebration of International Literacy Day saw hundreds of books and bookmarks handed out to passers-by in Plymouth city centre on a sunny September Saturday. A relay team of Plymouth Soroptimists manned the stand and others encouraged shoppers to stop and select a free book. Children were particularly excited to pick a book and went off proudly clutching their choice.
One of the organisers of this now regular annual event Lorraine Gillings said: ""Giving books away is a great way to encourage children and adults to read more. Reading is not only an essential life skill it can also give hours of pleasure. Even though lots of people now use e-readers, many still love to hold a real book."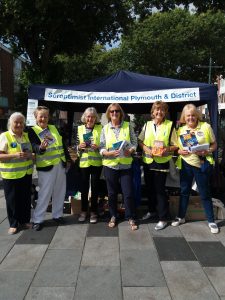 22nd August – Coffee morning
A successful fund raising coffee morning was well attended. Delicious cakes and good company made a very enjoyable occasion.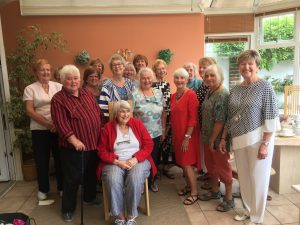 25th July – Yealmpton Show
As part of our ongoing membership drive, we had a stand at the Yealmpton Show and talked to lots of women about SI and the work we do. We also gave away dozens of bookmarks to people as they passed by the stand. Temporary glitter tattoos proved popular with young and old alike and raised some funds for the projects we support.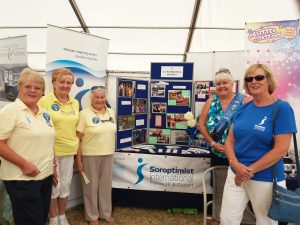 1st July – Garden Party at President Jenny's home
A very unpromising start to the day with lashing rain, but by lunchtime the sun was out and we were able to enjoy traditional English desserts in the garden! A lovely relaxed lunch with time to catch up enjoy the summer weather while raising funds for the charities we support.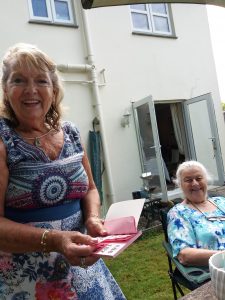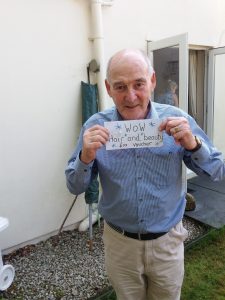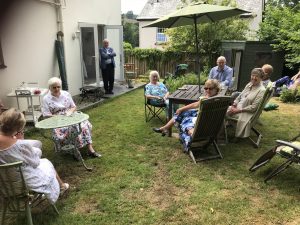 Enjoying the summer sun while raising funds for our projects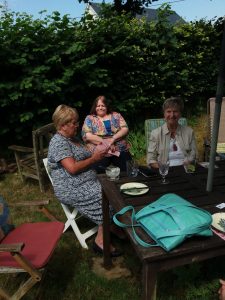 16th June – Plympton's historic Lamb Feast
Another successful fund-raising event which saw £480 raised from the raffle, tombola, jewellery sale and glitter tattoos. A huge thank you to all the businesses and individuals who kindly donated prizes and to everyone who visited the stand to support us.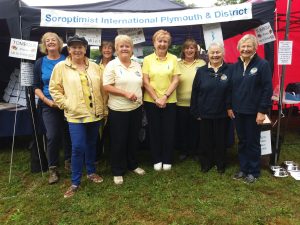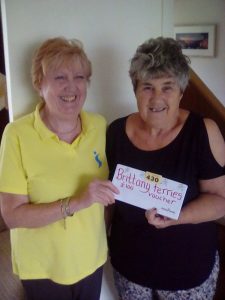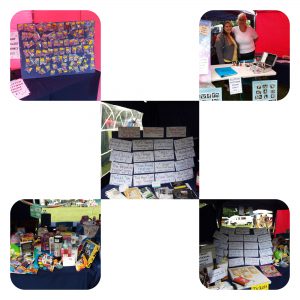 26th May – Lord Mayor's Day
A rather windy but successful Lord Mayor's Day which will hopefully see some potential new members joining Plymouth & District SI. Attracting visitors to the stand was a free draw for a luxury hamper and a gorgeous cake being raffled – kindly donated by member Karen Hibberd.
9th May – Celebrate 100 years of Women's Votes
Click here to find out more about this very successful event.
Join Plymouth Soroptimists on the afternoon of Wednesday 9 May walking from North Hill to Plymouth Council Offices where we will be met by the Lord Mayor and light refreshments will be served.
For more information telephone 01752 267517 or 07817 209108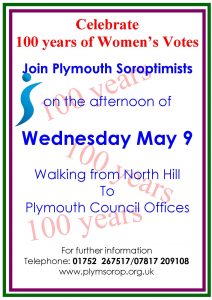 26th February – Shekinah pamper day for people in recovery
Top to toe beauty treatments and treats for around 40 women who use the Shekinah Mission were organised by Plymouth Soroptimists. The pamper day was held on 26 February to celebrate International Women's Day which this year falls on the 8 March. The day was a massive success and very much appreciated by all the women who came along.
Treatments included make-up, hairdressing, foot spa, manicures, eyebrow tidy and massage which were provided voluntarily by local beauticians as well as a team of hairdressers from Plymouth's On Course training centre.
Generous donations of clothes, shoes and accessories meant that everyone who attended was able to chose an entire outfit to take away. The first 30 women who turned up were also given a goodie bag of toiletries and treats.
Several Soroptimists pitched in throughout the day to help with the treatments and kept up a steady supply tea, coffee, biscuits and also provided a delicious lunch.
Plymouth Soroptimist President Margaret Parkinson said: "Judging from the feedback we've had the day was a fantastic success and we're hoping to repeat it next year. All the helpers and the women who attended the pamper day enjoyed the experience and it certainly was worth all the effort. We're extremely grateful to all the beauticians and hairdressers who generously gave their time, and also to the local businesses who donated items for the goodie bags."
Shekinah is a Devon based charity that provides opportunities for people in recovery. This may include recovery from homelessness, drug and alcohol issues, offending behaviours or mental ill health. We have a range of projects across a number of locations and we provide a safe space for people to develop their skills, regain their self-worth and go on to live independent and fulfilling lives. www.shekinah.co.uk



11th February – Club's 88th Charter Lunch at St Elizabeth's House, Plympton
Around 60 members and guests enjoyed a lovely lunch at St Elizabeth's House, Plymouth, in February to celebrate the club's 88th Annual Charter.
Honoured guests included The Lord Mayor of Plymouth, Councillor Wendy Foster, her husband Councillor Ken Foster and guest speaker Johnny Mercer MP for Plymouth Moor View. Plymouth President Margaret Parkinson was also delighted to welcome Regional President Daphne Dowsing, President Liz Rodgers from Poole, our Friendship Link Club, and several Presidents from around our Region.